FIND YOUR PERFECT DOMAIN NAME. Huge Choice. New Extensions. Low Prices. Register your perfect domain name today.
We sell hundreds of domain extensions.
.com
Now Avaliable
$12.95/year
.mx
Now Avaliable
$54.95/year
.bio
Now Avaliable
$74.95/year
.org
Now Avaliable
$13.95/year
.jobs
Now Avaliable
$144.95/year
.mobi
Now Avaliable
$15.95/year
Easy Domain Setup No Technical Skills
Hosting Options Available
Optional Whois Privacy Protection
Bulk Registration Available
Activation Within 24-72 Hours
Parking Options Available
DOMAIN PRICING Check out our list of supported domain names and pricing: Click Here.
Domain FAQ
How does registering a domain name protect my identity?
Identity theft has become an unbearable scourge all over the Worldwide Web. Chances are some scammer, spammer, hacker or crook, somewhere in the world today, will register a domain in your personal name or in the name of your company, thus depriving you of your ability to use your own identity for personal or business reasons. Registering a domain name in your own name or in the name of your company helps you protect your identity for future use even if you currently have no email or Web-hosting account. Protect your personal or company's identity now, before it is too late. This can't wait. Do it today.
How does a domain name help me establish my brand?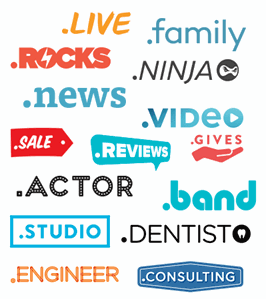 A domain name tells the world who you are and what you do.Domain names help you reach out to new audiences and allow them to discover your content and hear your message, thereby eestablishing your identity and brand. Domain names make memorable calls to action no matter the medium. We offer hundreds of new domain extensions that can help you tell your story exactly the way you want. Search for a name, word, or phrase and we'll help you find the perfect domain name to own your piece of the internet.
Do I need a hosting account to register a domain name ?
No. If you do not need a Website or personalized email for now, you can simply register your domain name and park it. Parking a domain name means registering a domain mame without a corresponding Web-hosting or email package and having it point to an "Under Construction" page on our server. Parking a domain name is a good way of reserving your domain name for future use. For a nominal fee, we will park your domain name on our servers. The option to park your domain is offered to you at the time of domain registration.
How do I register a new domain name?
Registering a domain name is fast and easy. Use any of the domain search forms on our Website to type the keyword and extension for the domain name you want. If the domain name is available and you are satisfied with the price, simply follow the ordering prompts and you are on your way to establishing your brand and identity!
How long does it take to register a domain name?
It can take as little as 2 hours for the most common domain names, but typically as long as 24 hours for a domain name to begin to be active and display your content on the Internet. Certain domain names, especially country domains, may take longer due to their requiring different levels of verification, such as residency requirement or local address.
How do I transfer my domain name to the Global Web Company?
Transferring your domain name to us is easy. Visit our domain transfer form and follow the instructions. To transfer a domain, make sure the domain name has NOT been newly registered in the past 60 days, is unlocked, and is eligible for transfer from your current registrar. Certain types of domains, such as .com and .net domains, also require you to provide an EPP authorization code in order to authorize the transfer. An EPP transfer authorization code is a security code that indicates you have the right to transfer the domain name. You should be able to get this EPP code from your current Registrar. Please contact your current registrar to obtain this code prior to submitting your transfer request.
Do I absolutely need to transfer my domain name to use your hosting services?
No. You can configure your NameServers at your current registrar to point to our servers. During your order process, you will be provided with the NameServers needed for pointing your domain name to your Website on our servers.
Do you offer a money-back guarantee for domain name orders?
No. Once a domain name is registered, there is no way to cancel the registration. All domain name sales are therefore final.